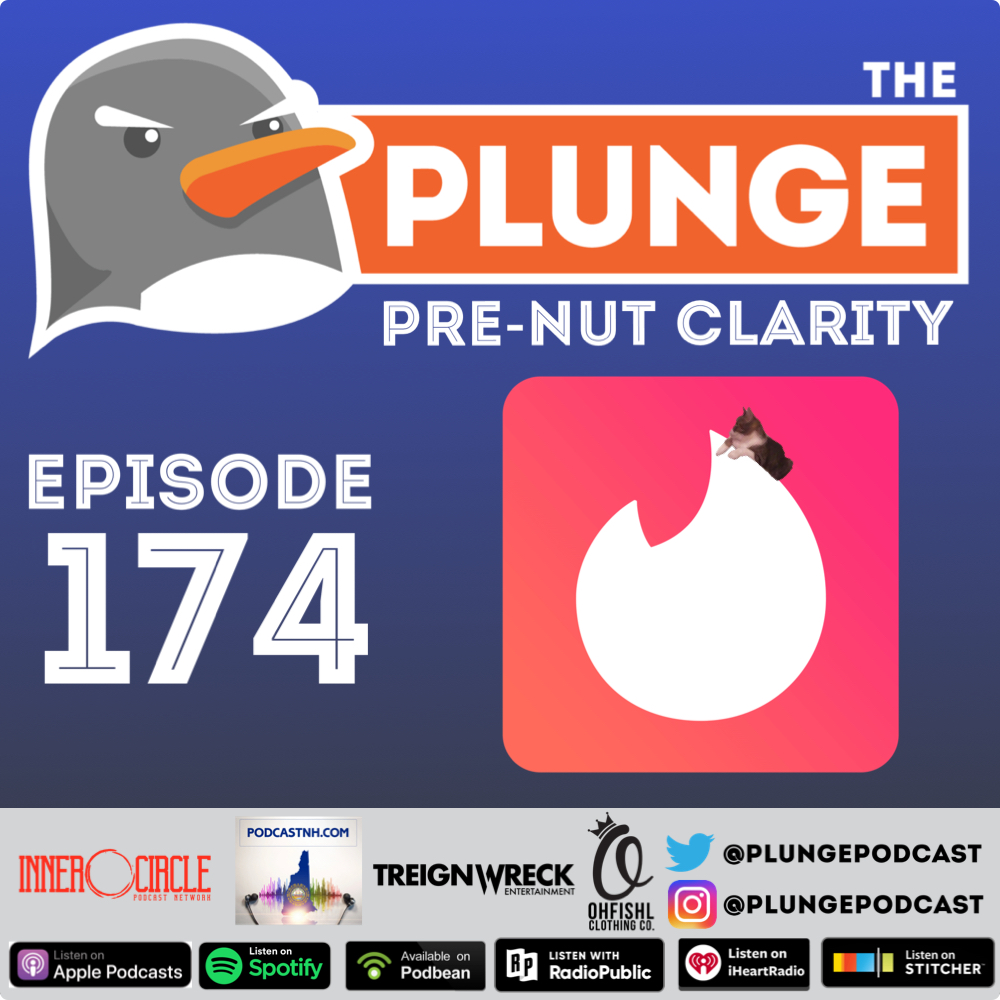 The vibes are back to early days Plunge as #JustDave returns and tells Riley and Hunt all about his new single life and his Tinder escapades. We also talk briefly asbout 5k's, Big Mike, and how Hunter doubted Riley's ability to reach ketosis but here he is. We end with our Toks and skip out on Plunge Picks so we can hear more Tinder stories
Become a Patron of The Plunge for just $1 at patreon.com/theplunge. Being a patron will get you access to our exclusive shows, including 'Plungeons & Dragons', 'Will You Rather?',  'Inside P&D', 'Royal Mumble', and a Patreon exclusive 'The Plunge' every month. Additional tiers involve extra perks like shout outs, raffles, stickers and more!
Buy the new Plunge Athletics shirt for just $10 here;
https://www.plungepodcast.com/product-page/plunge-athletics-shirt
We are now a part of Treignwreck Entertainment and are teaming up with their other podcasts "Let's Talk Records" and "The Keep Up Podcast". Go check them out at treignwreck.com
Email us at plungepodcast@outlook.com today to become the next #PlungeAthlete
Go to hempbombs.com and use code "PLUNGE" at checkout for 15% off!
Find all things plunge at linktr.ee/theplunge
Check out the shows we have within The Plunge including JUSTIFIED, Plungeons & Dragons, and Royal Mumble. Checkout everything PLUNGE at plungepodcast.com
Check out ADAM AND EVE! Get 10 FREE ITEMS using code PLUNGE at checkout to get 50% off your item, 6 free movies, free shipping, and then an extra item for him, her and both of you only on adameve.com
Go to Ohfishl.com and use code PLUNGE at checkout for 25% off!
We are one of six Flagship shows on the Inner Circle Podcast Network, follow it on all social media @InnerCirclePN
RIPPODCOIN RIPDAVIS RIPPODCOIN RIPMACMILLER RIPOLIVERTHEDOG RIPVERNTROYER RIPGRANDPA(x3) RIPGRANDMA RIPHARAMBE RIPWUTZKE RIPHERMAJESTY? RIPNOTREDAME RIPSEASON1 RIPTHE RIPKOBE RIPSEASONTWOOBA
Subscribe to "The Inner Circle Presents" on all streaming platforms to here Inner Circle original shows like Inner Circle Sports Podcast, Winners Circle, and Creatures of the Night. Visit InnercirclePN.com for more information.
Follow us on twitter and instagram @PlungePodcast.
Available for Download on Apple Podcasts, Google Play, Spotify, Stitcher, iHeart, RadioPublic, Listen Notes, and PodBean.
Leave a review if you liked the show!
Play Now