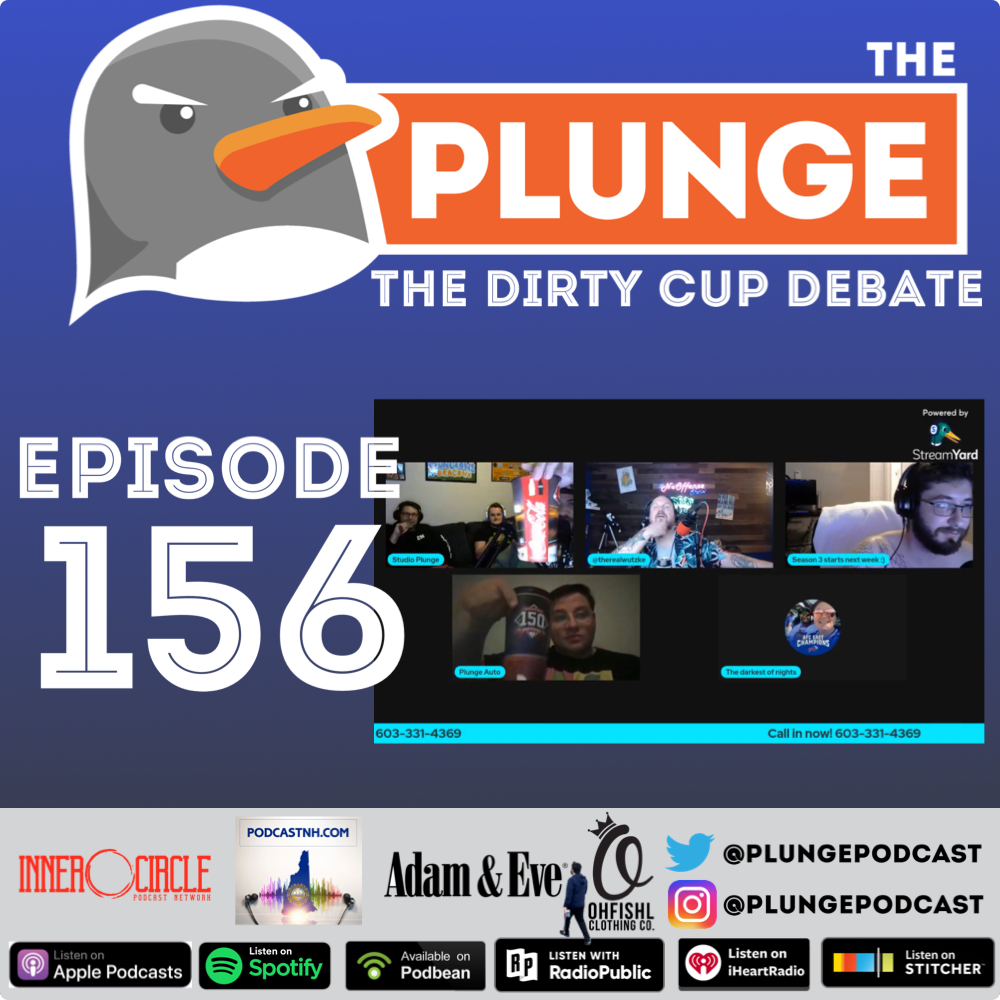 The biggest Plunge debate in years has surfaced, and it did NOT go the way Hunter was expecting. Is Riley a garbage person for taking souvenir cups from a sporting event left by other people? Or is washing a once used plastic cup acceptable? Find out what points were made in our biggest fight since the Bread Bowl Saga.
Additionally, Riley & Hunt are joined by some of their closest season 3 cohosts including Dave, Tuba, Chris Wutzke, Apex Jack, and BLT to celebrate 3 straight years of The Plunge. We go over some memories of the last year within the show, a look forward to the future, pride month and our support, a look back at the first time Hunter said "Today is a day", and 2 Plunge Picks; best Plunge Memories/Moments and Best Plunge TikToks. Thanks for riding with us each and every week, we love you all and look forward to keep it going for years to come
Become a Patron of The Plunge for just $1 at patreon.com/theplunge. Being a patron will get you access to our exclusive shows, including 'Plungeons & Dragons', 'Inside P&D', 'Royal Mumble', and a Patreon exclusive 'The Plunge' every month. Additional tiers involve extra perks like shout outs, raffles, stickers and more!
Find all things plunge at linktr.ee/theplunge
Get our new merch at plungepodcast.com/shop including out new P&D tee shirt or the Muddy Clam hoodies!
Check out the shows we have within The Plunge including JUSTIFIED, Plungeons & Dragons, and Royal Mumble. Checkout everything PLUNGE at plungepodcast.com
Check out ADAM AND EVE! Get 10 FREE ITEMS using code PLUNGE at checkout to get 50% off your item, 6 free movies, free shipping, and then an extra item for him, her and both of you only on adameve.com
Go to Ohfishl.com and use code PLUNGE at checkout for 25% off!
We are one of six Flagship shows on the Inner Circle Podcast Network, follow it on all social media @InnerCirclePN
RIPPODCOIN RIPDAVIS RIPPODCOIN RIPMACMILLER RIPOLIVERTHEDOG RIPVERNTROYER RIPGRANDPA(x3) RIPGRANDMA RIPHARAMBE RIPWUTZKE RIPHERMAJESTY? RIPNOTREDAME RIPSEASON1 RIPTHE RIPKOBE RIPSEASONTWOOBA
Subscribe to "The Inner Circle Presents" on all streaming platforms to here Inner Circle original shows like Inner Circle Sports Podcast, Winners Circle, and Creatures of the Night. Visit InnercirclePN.com for more information.
Follow us on twitter and instagram @PlungePodcast.
Available for Download on Apple Podcasts, Google Play, Spotify, Stitcher, iHeart, RadioPublic, Listen Notes, and PodBean.
Leave a review if you liked the show!
Play Now